By clicking the pictures below, you can see what each facilities offers to you.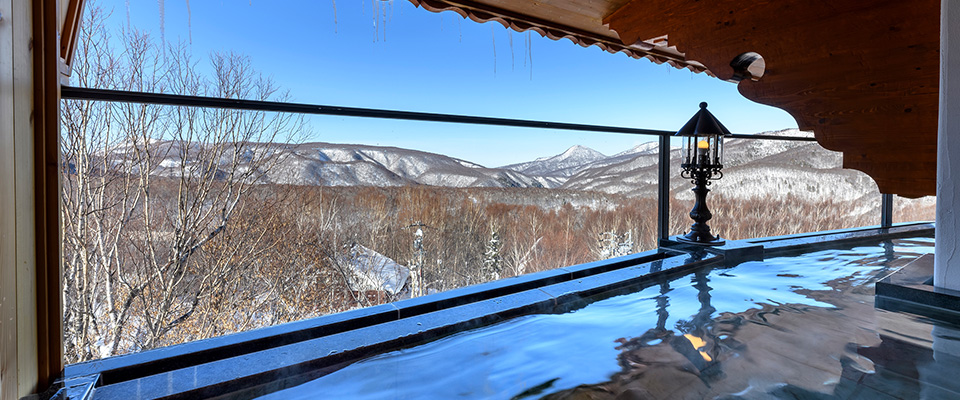 Open-air hot spa as if floating in the air
From our open-air hot spa on the floor, you can enjoy the view of nature in Okushiga-kogen.
In addition, the hot water, treated with the ore produced in Bad Gastein, Salzburg, Austria、the world-famous health spa resort, and the radium ore whose effects are accredited by MHLW, is body-friendly, and expected to improve blood circulation, increase metabolism, and strengthen self-healing power. The spa will give utmost comforts in bathing to everyone of all ages.
Large public bath with magnificent view
On the fourth floor, large public bath with magnificent view adjoins the open-air hot spa. The entire front side of each bath is built with a glass panel with the full width and height so that you can fully enjoy the view while bathing from a different angle than that of the open-air hot spa.
Babies who are not out of diapers are not allowed in our public bath with panoramic view. Thank you for your understanding.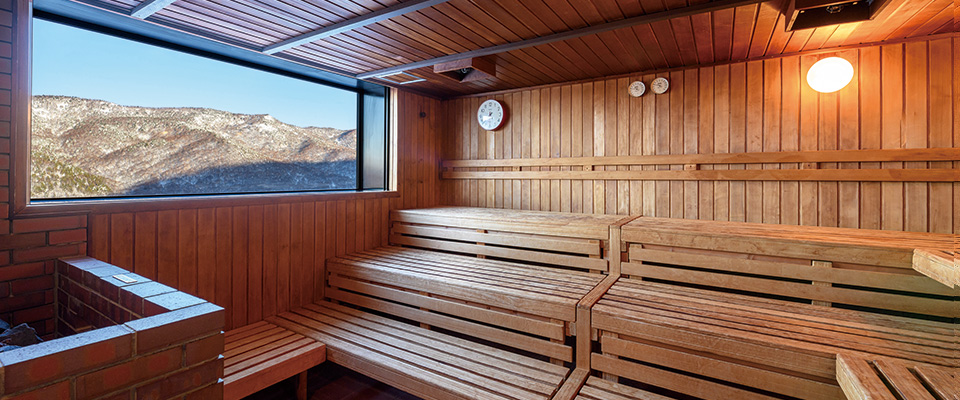 Sauna
In each public bath, you will find sauna, one for men and the other for women. Our saunas have, again, large windows overlooking the beautiful landscape. You can refresh yourself in the cold bath after dripping plenty of sweat in sauna.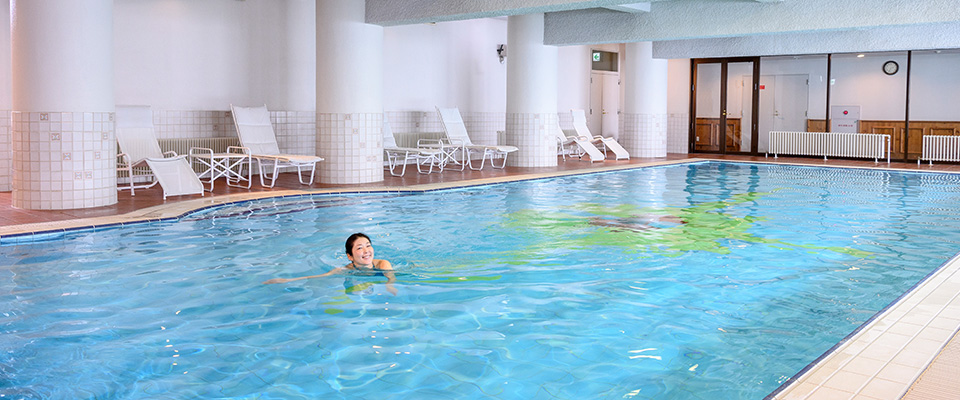 Indoor heated swimming pool
There is a heated swimming pool on the basement floor for your activity on a bad-weather day. It is fitted with jacuzzi, and roomy sauna is adjoined, both for your relaxation after swimming.
Babies who are not out of diapers are not allowed to use the swimming pool. Thank you for your understanding.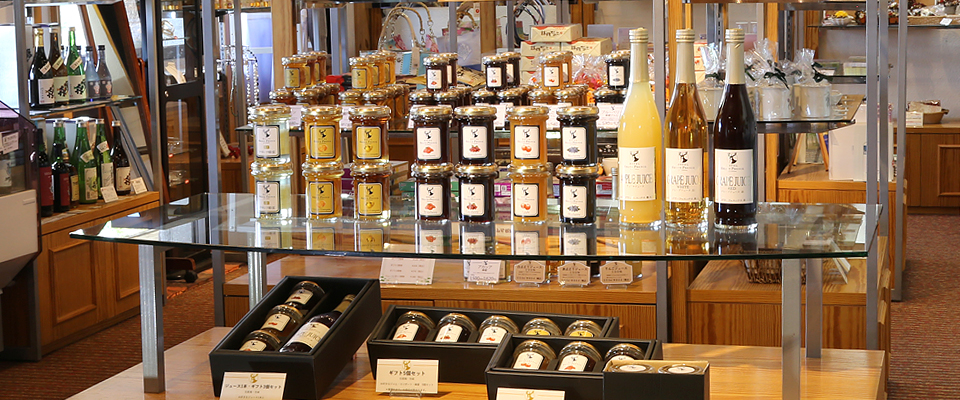 Souvenir shop
Our souvenir shop is offering you not only our original items such as the home-made salad-dressing, jam, and apple juice, but also north-Shinshu local goods such as Shigakogen beer,local souvenirs, and amenity goods, and looking forward to your shopping.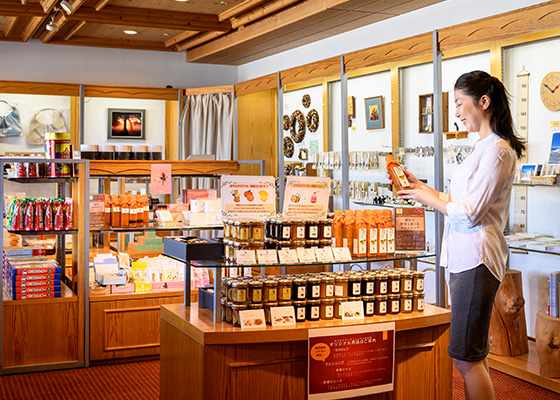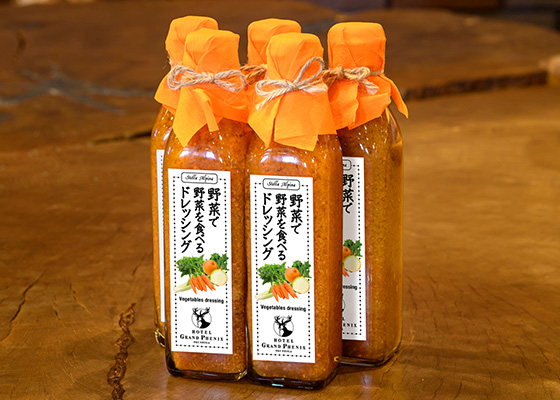 Hotel Grand Phenix Okushiga original dressing
Enjoy the taste of vegetables including onion,
arrot and celery and put not only on salad
but also on carpaccio, hamburg and other meals.
¥864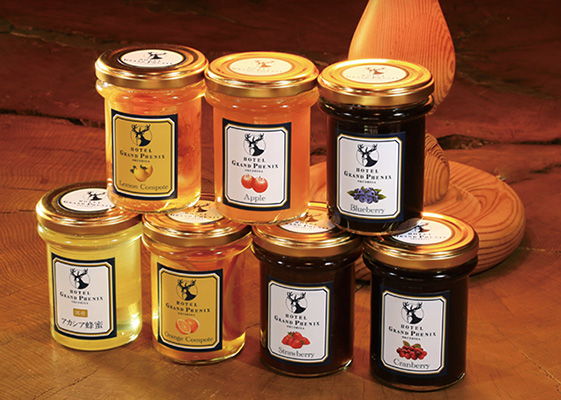 [ Jam ]

"Preserved-style", so as to preserve the best of original and natural flavor of the fruits.
- Blueberry(160g) ¥572
- Apple(160g) ¥540
- Cranberry(160g) ¥540
- Strawberry(160g) ¥572

[ Compote ]

Prepared carefully using honey to bring the refreshing flavor, as with the jam.
- Lemon Compote(175g) ¥680
- Orange Compote(155g) ¥680

[ Honey ]

A hard-to-find item as collection amount of the honey is so scarce.
- Akashiya Honey(200g) ¥1,620
*The above prices are all tax-included.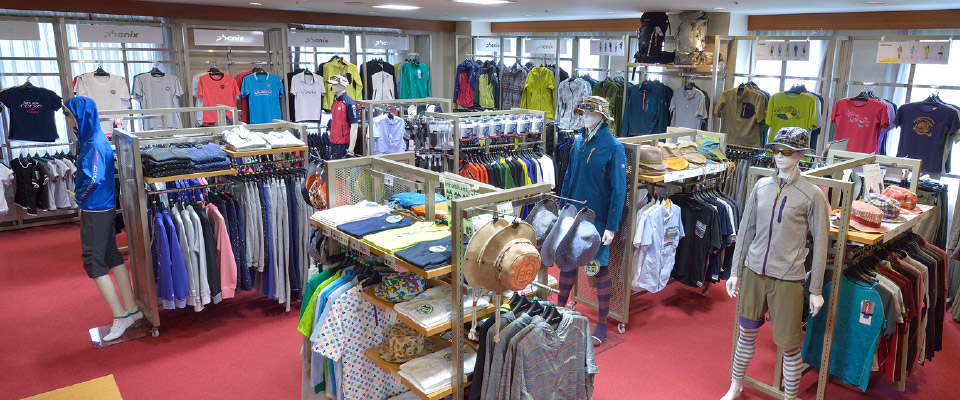 Outlet Shop
Our outlet shop, the only outlet shop in the entire Shigakogen area, offers a variety of sports wear starting from ski wear to outdoor wear. It also features children's wear, "Copenhagen Delights" by Danish designer.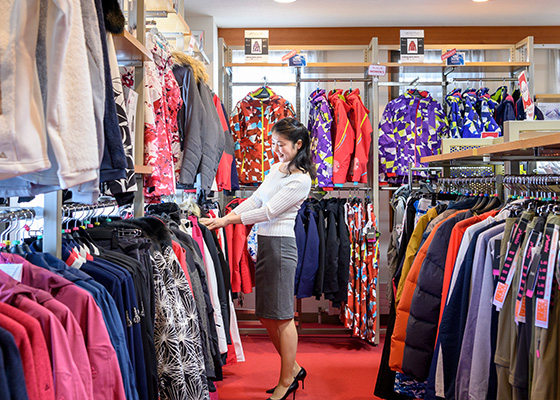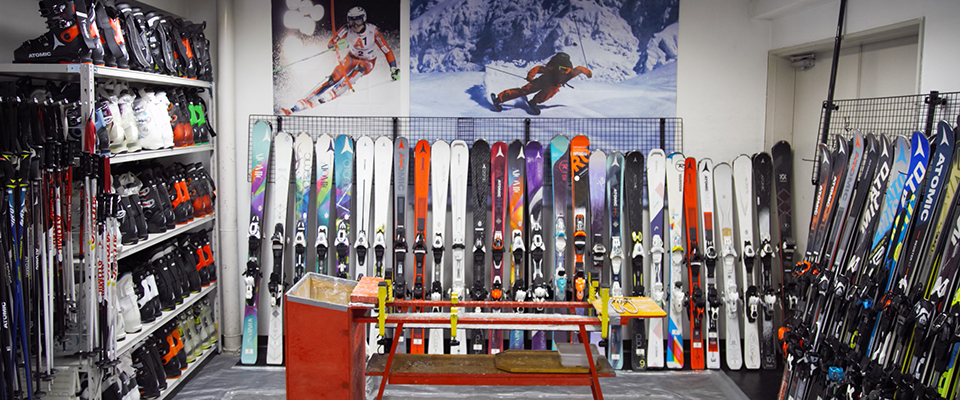 Rental ski
The great reputation that you could immediately tell the difference on just putting on Grand Phenix's rental ski!
We, at our ski rental shop, have a good selection of both home and overseas top-brand skis,unlike many other shops
where so-called rental ski models are often standard.As for ski waxing, meticulous work is guaranteed by our shop-staff.

* Opening period: 1st Dec 2018 - 5th May 2019
* Opening time: 8:00 - 18:00
* Venue: In front of the hotel pool at Basement
* Rental fee
(JPY, including tax)
Half day
(4 hours)
One day
2 day
3 day
4 day
5 day
6 day
7 or more days
Package (Skis, Boots, Poles)
Adult
3,200
4,600
8,300
12,000
15,200
18,400
21,600
additional 3,200 JPY
per day
Child
1,800
2,800
4,800
6,900
8,700
10,500
12,300
additional 1,800 JPY
per day
Skis
Adult
2,300
3,500
5,700
8,000
10,300
12,600
14,900
additional 2,300 JPY
per day
Child
1,200
1,800
3,000
4,400
5,600
6,800
8,000
additional 1,200 JPY
per day
Boots
Adult
1,800
2,600
4,500
6,300
8,100
9,900
11,700
additional 1,800 JPY
per day
Child
900
1,200
2,100
3,200
4,100
5,000
5,900
additional 900 JPY
per day
Poles
Adult
500
800
1,300
1,800
2,300
2,800
3,300
additional 500 JPY
per day
Child
300
400
700
1,000
1,300
1,600
1,900
additional 300 JPY
per day
Helmet
Adult
500
600
1,100
1,600
2,100
2,600
3,100
additional 500 JPY
per day
Child
300
400
700
1,000
1,300
1,600
1,900
additional 300 JPY
per day
Snow boots
600
800
1,400
2,000
2,600
3,200
3,800
additional 600 JPY
per day
Snow shoe
1,000
1,500
2,700
3,800
4,800
5,800
6,800
additional 1000 JPY
per day
*

Latest Ski model

: A good stock of the latest and the-most talked about models among ski brands … Atomic ‒ Head ‒ Rossignol ‒ Ogasaka, etc., at our shop.
*

Ski style

: Our ski rental shop is always ready to meet all types of skiing … from demonstration type to off-piste skiing.
*

Waxing service

: Ski waxing with special care … so as to obtain the utmost sliding performance! 《Hot Wax》Adult 2,500yen, Child 1,800yen
*

Boots

: Ski boots, which are treated in inner boots with high-tech rubber pad for shoe-sore prevention care, are available.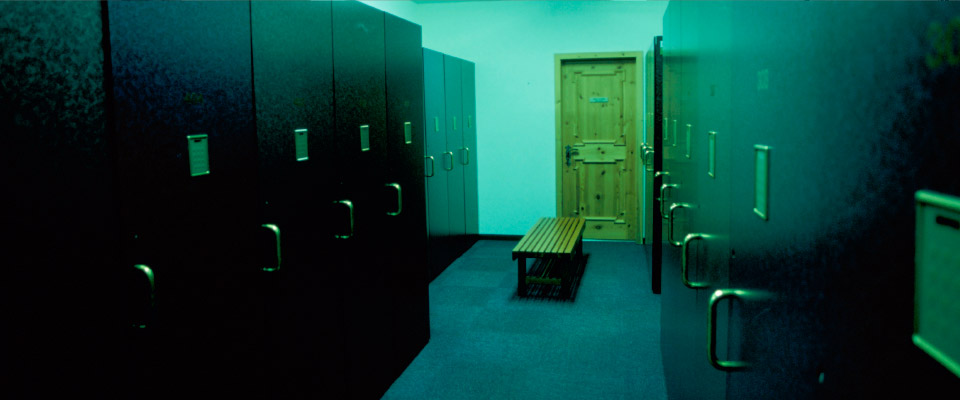 Ski locker room
Our ski locker room is designed and build on the basis of the skiers-first concept.
The lockers are large enough to keep not only skis and boots, but other items like helmet and gloves.